Fireproof Glass
Shielding Fireproof Glass(Kontlafoam)
It prevents the movement of smoke and flames generated by fire and blocks the heat from being transferred to the other side of the glass.
When a fire occurs, the heat instantly rises to 1000°C and the smoke and fire caused by incomplete combustion make it difficult to move to the evacuation site, but thermal fireproof glass prevents smoke and flames from fire as well as radiant heat, making it possible to pass by the glass in case of fire. Moreover, by blocking the transfer of heat, it prevents human injury and fire from spreading to adjacent areas.
Type 60minutes | 90minutes | 120minutes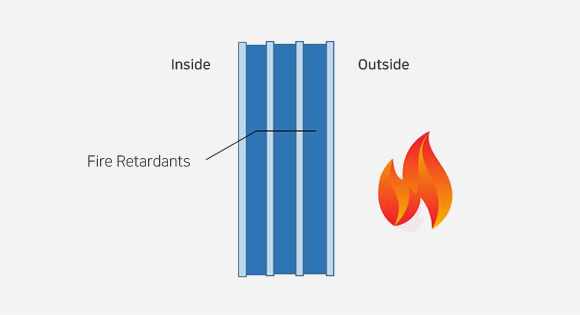 Non-shielding Fireproof Glass - Potassium Ion Substitution Method
It functions to prevent smoke and flames from occurring during a fire.
It is the most used fire protection glass in Korea, mainly used in buildings where a lot of people move around.
Although it has flame retardant performance, it is a fireproof glass without the shielding function that block heat radiation.
Type 30minutes | 60minutes | 90minutes
Differences Between Shielding Glass and Non-shielding Glass
*

Please scroll through the table.
| Division | Non-shielding glass | Shielding glass |
| --- | --- | --- |
| Classification | Class E | Class EI |
| Contents | Blocks flames, gases and smoke in the event of a fire but fire is spread to the other side due to radiant heat and increased temperature on the glass surface | Fire, gas, smoke and heat are also blocked in the event of fire to ensure safety of the evacuees located on the other side and prevent the spread of flames |
| Remarks | Non-shielded fireproof glass (Class E) | Shielded fireproof glass (Class EI) |
Differentiation Standard of Fireproof Glass (One-sided Fireproof Glass)
01
The surface compressive stress is at least 170Mpa
(Management Standard of Jeongam Safety Glass: 200Mpa)
02
The stress difference between four intersection points of straight line and diagonal line is within the range of 5 percent
03
More than 180~220 fragments in the area of 50x50mm sized square frame
04
At least 5R for the corner area with CNC angle chamfer for all areas of chamfer condition
05
Requesting and confirming the entire test report including detailed drawings with sizes
06
Production process CNC round chamfering device > Fire retardant liquid dipping process > Full convection horizontal reinforcement with wind pressure over 9000 pascals > Heat Soak Test oven