Bulletproof Glass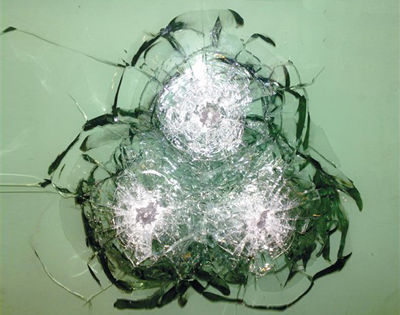 Bulletproof Glass
As a glass laminated with a special film between multiple layers of glass to cope with the danger incurred by various types of bullets, it not only blocks bullets but also minimizes fragments after the impact of shooting.
The ultimate goal of bulletproof glass is to buy time to escape after the first shooting.
BULLET PROOF GLASS SPECIFICATIONS
*

Please scroll left/right to see the table.
Weapon Type
Bullet Type
Standard
Security Level
Bullet Velocity(m/sec)
No of shots
Splinters permitted
Level
9mm Parabellum9 x 19 mm
FJ / RN / WC
EN 1063
BR 2 S
400
3
Yes
1
FJ / RN / WC
UL 752 - 2005
I
375
3
No
2
FJ / RN / WC
EN 1063
BR 2 NS
400
3
No
FJ / RN / WC
NIJ 0108.01
II A
332
5
No
3
.357 Magnum
FJ / CB / WC
EN 1063
BR 3 S
430
3
Yes
4
FJ / CB / WC
EN 1063
BR 3 NS
430
3
No
5
FJ / CB / WC
UL 752 - 2005
II
400
3
No
FJ / CB / WC
NIJ 0108.01
II
358
5
No
6
.44 Magnum
FJ / FN / WC
EN 1063
BR 4 S
440
3
Yes
7
FJ / FN / WC
UL 752 - 2005
III
430
3
No
8
FJ / FN / WC
EN 1063
BR 4 NS
440
3
No
FJ / FN / WC
NIJ 0108.01
III - A
426
5
No
9
7.62 x 39AK-47 Kalashnikov
FJ / PB / SC
ГOST P 51136 - 98
3
720
3
No
10
FJ / PB / SC2
STANAG 4569
2
695
3
No
11
FJ / PB / SC2
ГOST P 51136 - 98
5
720
3
No
5.56 x 45M-16 / AR-15
FJ / PB / SS109
EN 1063
BR 5 S
950
3
Yes
12
FJ / PB / SS109
EN 1063
BR 5 NS
950
3
No
13
7.62 x 51G-3
FJ / PB / WC
UL 752 - 2005
5
830
1
No
14
FJ / PB / WC
EN 1063
BR 6 S
830
3
Yes
15
FJ / PB / WC
EN 1063
BR 6 NS
830
3
No
16
FJ / PB / WC
UL 752 - 2005
8
900
5
No
17
FJ / PB / WC
NIJ 0108.01
III
838
5
No
18
FJ / PB / SC2
NIJ 0108.01
IV
868
1
No
19
FJ / PB / WC
UL 752 - 2005
7
950
3
No
20
FJ / PB / SC2
EN 1063
BR 7 S
820
3
Yes
21
FJ / PB / SC2
EN 1063
BR 7 NS
820
3
No
22
FJ / PB / SC4
STANAG 4569
3
930
3
No
23
7.62 X 54 SVDDragunov / Kanas
FJ / PB / SC
ГOST P 51136 - 98
5
830
3
No
24
FJ / PB / SC2
ГOST P 51136 - 98
6
830
3
No
25
FJ / PB / SC3
ГOST P 51136 - 98
6a
820
3
No
26
FJ / PB / SC4
ГOST P 51136 - 98
Special
1000
1
No
27
* FJ - Full Metal Jacket / * RN - Round Nose / * FN - Flat Nose / * WC - Weak Core / * CB - Conical Bullet / * PB - Pointed Bullet / * SC - Steel Core /
* SC2 - Steel Core Level2 / * SS109 - Armor Piercing Soft Kernel / * SC3 - B32 Armor Piercing Kernel / * SC4 - Special Armor Piercing Kernel